Push notifications on desktop computer browsers are going to be popping up everywhere very soon!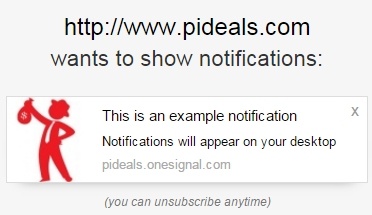 So what are they? It's a little toast message that will pop-up on the subscribers browser to let them know that your site has a new update, and you decide what that message says.
Facebook, Blab, Product Hunt, QuickSprout and countless others have already implemented the API to have it working on sites. So what are you waiting for?
It's a new kind of subscriber, you don't have their email address but their not going to miss your message!
You don't even have to have an optin-form it comes directly from the browser for every new visitor you recieve. They will get a message asking them if they would like to receive messages from: www.donotdwell.com and the visitor can respond by clicking a Allow or No button.
Safari 7.0.3 (With a market share of 5-7%) was the first to provide support for web push. It was followed by Chrome 42 (market share 40-50% and growing) that provided support for both desktop and android. Mozilla Firefox (market share 16-20%) will support web push in v44 (launched January 26, 2016).
So, what about me? I don't know how to code and I want it on my WordPress site! I got you buddy!
Most of these guys have a solution for you if your site is HTTPS or only HTTP or a mixture.
Fun fact #1: Because most browsers still run in the background, if a subscriber has the browser closed, they will still get your notifications. I can confirm facebook has done this to me.
Fun fact #2: Google Chrome notifications work on desktop and Android:
My daughter like the Kids Songs app lol
Anyways your notification does not have to look like mine, I only set it up like that because I do not have HTTPS, if you do then you can set yours up completely custom and no one would ever know that you used a free service like OneSignal, they just offer the subdomain to make it possible for people like me that do not have https.
Works for any website, just drop their code in the <head> and <body> (WordPress plugin already does this automatically)
Takes about 15 minutes to setup(have a desktop notepad handy for copying and pasting key numbers and etc) but their plugin walks you through it step-by-step. It's FREE!
OneSignal offers way more than you would believe!! It's like the Leadpages of Push Notifications: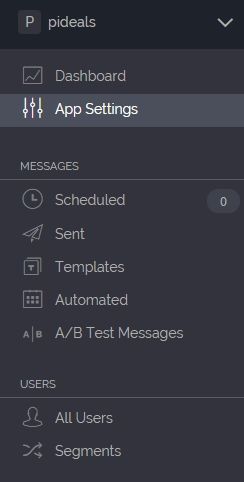 Working on my site:

You are going to have to resize your logo for many sizes in Safari:
16 × 16
32 × 32
64 × 64
128 × 128
256 × 256
I already found you a really easy to use site to make it happen.
Nice option on post editor if you want to send a notification for that post or not:


Update: 2/5/2016 Adding Pushwoosh

This is probably the most advanced push notification service there is but it is also the least intuitive. For seasoned developers it shouldn't be any sweat at all but if you are new to creating and connecting these services to your applications then it will be a struggle even with their documentation. Commonly used resources like Google Cloud Messaging are abbreviated to GCM above form input field without tooltips explaining what it is, if I had not known from setting this up through the other services I would have been lost as to what needed to be put into their field, even their documentation for chrome push notifications abbreviated this term.
They also have a very nice editor that sits next to the post editor in WordPress that will allow you to customize the message specifically for that post: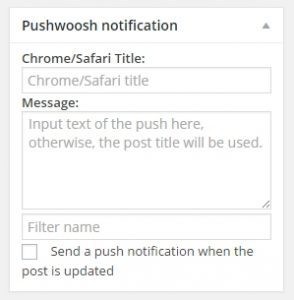 They also support non-https, although their subdomains are not clean or customizable: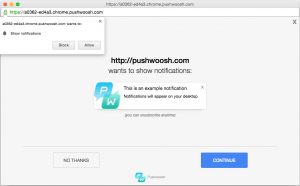 They are a pro-service for a pro-user with some seriously abilities that allow you to drill down to the T.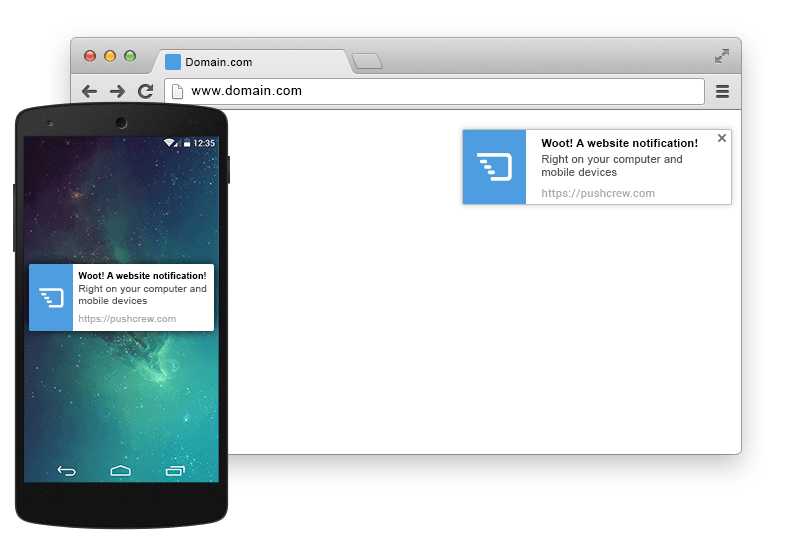 Update 3/2/2016
Removing Push Monkey from this list as they are unresponsive and do not provide any support their service.
Push Monkey
Signup at their site first, then grab their plugin.

A really affordable service that makes it really easy to set this up: $2.50/month with a 30 day free trial.
Currently only working on Apple Safari but they will have Chrome and Firefox very soon. They have a really cool little widget that sits next to your Editor (Will add screenshot of this soon, looks like I'm having an issue being verified with them) so you can modify how exactly you want the push notification for that specific post to look.
If for some reason you disabled push notifications on chrome and you don't know how, then go here.
Enjoy the new wave of subscribers!