In this guide I will show you different methods and resources that you can use to learn how to find and join the Best Group Boards on Pinterest. This is how you will be able to pin on another person's board.
Prefer video instructions?
Increase exposure and engagement for your pins.
Gain followers more quickly.
Learn first hand about the pins people actually are interested in.
Level up your marketing game.
Stay up to date on trends in your industry.
Alright let's get into it.
First we're going to use Google Sheets to keep track of all the boards that we contact. This will help if you need to contact the board creator again because they may have missed your email or comment. I would say two weeks is a good enough wait time before contacting them again with a request in the case that you did not receive an invitation or response regarding otherwise.
Keep it simple. All we will be dropping in a sheet is the board link, contact info, whether it be a contact form link, email address or a request to comment on a pin. See the video below if you need further assistance in setting this up and tracking your progress.
How to Find Group Boards on Pinterest
Here are the tools:
PinGroupie: Find group boards on Pinterest with ease.
BoardBooster: Find the top performing boards on Pinterest by category!
My Boards: Find and join my boards or request for me to create a board for you to collaborate on.
Watch the video and I will take you step-by-step through each of these tools.
Once you've found a board you are interested in joining you will need to read the board description for any rules of contacting them or receiving an invitation. Note some boards have it clearly labeled that they are closed to new contributors. In this case you can move along or you can try to get to know the creator. I'll share those tips further down on this page.
Usually the creator will ask that you follow them and contact them 1 of 3 ways for an invitation to the group:
Send an email request.
Use the contact form on their website.
Comment with a request on one of their pins.
Rarely will a board administrator ask you to message them.
But in the case you find someone that does, then navigate to the top-right on Pinterest and click the chat symbol > Inbox > New Message. This is how to get to the form where you send them a message.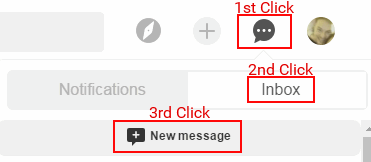 Now that you are on the New Message form you will need to type in the profile name of the person you want to message. As you type the form will auto-populate with suggestions profiles you are trying to reference. Select one and then send them your message.

You also need to make sure that you try and collect all of the info listed below:
The board creator's name. (if possible: This can usually be found in their profile or their website about me page or sidebar.)
The board name. (They will need to know which board of theirs you want an invite to.)
Notate their board rules (if any) in your Google Sheets spreadsheet.
Email requests are pretty straightforward. You will just need to copy their email address and drop them a message. Sometimes creators like different information when it comes to inviting you to one of their boards. Fortunately for you, I've already learned the hard way and I now know all of the different information that group board creators would need or request from you. You can find it in the email copy below.
Using a contact form on their site is pretty much the same as emailing them. What you will need to do is find the board creators profile which will be the person pictured furthest to the left of all the contributors in the group.
Click on their profile and locate their website address in their profile description. Once you are on their website you will need to look for one of 2 pages usually: Contact page or an About Me(or Us) page. This will allow you to either find their contact form or their email address.
Email Subject: Hi, May I have an invite to your Pinterest Board?
Invite Request: Email Copy
Hi [INSERT THEIR NAME],
May I have an invitation to join your [INSERT BOARD NAME] board?
My Pinterest profile link: [INSERT YOUR PROFILE URL] (example: https://www.pinterest.com/cbryant03/)
(My Pinterest account email is: [INSERT YOUR EMAIL THAT IS ASSOCIATED WITH YOUR PINTEREST ACCOUNT] if that makes it easier to find me)
I believe I could offer your board some great & interesting pins from time to time.
Here is a board of the typical pins that I would pin to your board that follow your guidelines:
[INSERT BOARD URL] (example: https://www.pinterest.com/cbryant03/best-of-do-not-dwell/ )
Thank you for your time and consideration!
[INSERT YOUR NAME]
How to Accept a Pinterest Board Invite
Pinterest will send you a notification to your email and a message on the platform itself. Either way you accept the invite does not matter because it will send you back to that board and a final acceptance invitation will be at the top of the board. Once you have joined the board you can pin to it just like you would pin to one of your own boards.
How to Turn off Group Board Notifications
Go to your Pinterest settings page for notifications. At the very bottom of that page click the button titled "Pick which group boards you hear about". Once that window is open all the board names will be listed. Toggle off all the boards that you do not want notifications for and make sure you click Save Settings.
Alternately you can also do this through the individual board edit screen.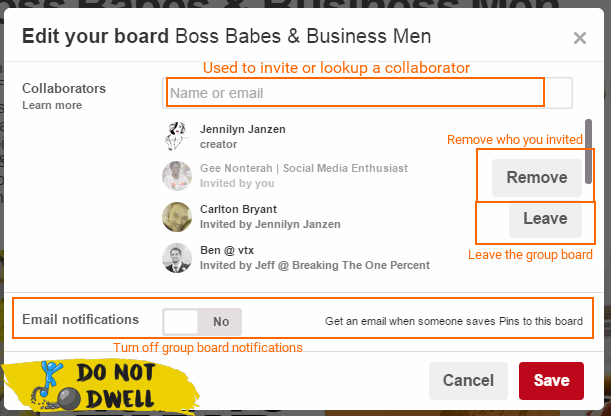 How to Leave a Group Board on Pinterest
If for any reason you want to leave a group board then you can simply by clicking the button to edit the board. Inside that window there will be the option next to your name to leave the group.
How to Create a Group Board on Pinterest
This is incredibly simple. All you have to do is locate the board of your you would like to become a group board and click on the edit button. Once you're on this edit board screen all you have to do is start inviting people. Once you have invited someone to this board it will have one additional option added this this edit screen. You can also invite people to your secret board by doing this same method. That is the option to turn off the ability for collaborators to invite other people to join your group board. Don't forget to add a description for your board. Also add your contact info and set your rules.

Things generally understood but sometimes not mentioned
Some board creators will allow you to invite whoever you want to a board and some will not. If this is not stated anywhere in the board description you should assume that it might not be polite to invite others to the board without permission from the creator. If you want to invite someone reach out to the board creator and ask them if you may invite the person or just tell them to read this post.
Random Tip!
If you want to share a Pinterest board link just navigate to that board. Once it is loaded, copy the full address at the top of your browser and that is the link you will need to share. You can share a single pin the same way.
How often should you pin to a group board?
Every board will have its own set of rules. Some will allow you to pin as much as you want although this is rarely the case. Usually, the max pin amount you will find for a 24 hour period is 2-5 pins daily. In the event that you cannot find a defined pin frequency set by the creator, you can watch the board for a couple of days and see how often people are pinning to it.
If you don't have the time to keep track of this (and I don't blame you) you can find the overall pin frequency of the board through BoardBooster. This will also allow you to automate your pinning.
Once you have created a free account you will need to add your group boards to the Scheduler so that the system to retrieve it's information. Navigate to the menu at the top right and click on Pinning tools > Scheduler.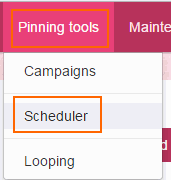 Now click on the button to [Add Boards]
It will request access to your Pinterest account if you have not already connected it. Go ahead and allow it so it can fetch the boards. Tons of people including myself use BoardBooster so don't worry it is trusted and safe.
Then select the group boards you want to gather information on. Below are the settings that I use when adding new boards. (Note: No pins will be added to the boards at this point! So do not worry!)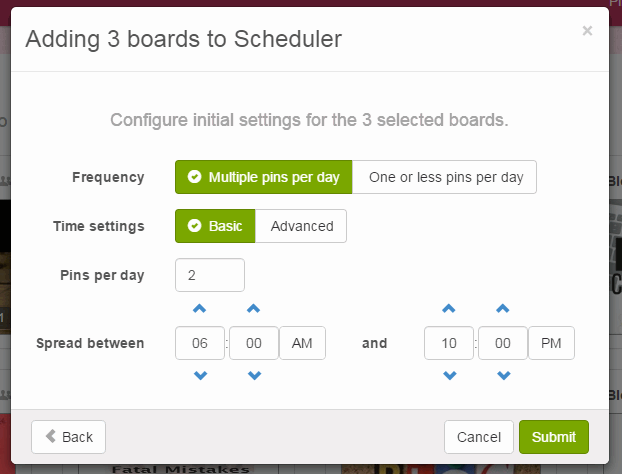 It will create secret boards that will be used for adding pins to these group boards based on the schedule you setup. (Note: Remember until you add content to these secret boards no pins will be published.  That's fine because at this point we are just doing this first step to find the pin frequency of the group board and get some other juicy stats to see how good it's performance is. This will let you know if joined a good board or not.)
Once the boards are added you will see that each of these have a small amount of stats at the bottom. Hover your mouse over this and it will explain the meaning of them.

Now you can navigate to the menu at the top right of the site and click on Reports > Board Performance. Note: Most times BoardBooster will already have the stats for the group board in their system. In the event they do not you will have to wait a few days while it tracks the board performance and reports it on this page.
Once you are on this page click the checkbox at the top right for "show more metrics".
I've marked up the chart and here are the meaning of the colors:
Green

= Good

Yellow

= Ok

Orange

= Not looking so pretty

Red

= Screw this! I've got better things to do with my time.

Note:

 These stats will range from industry to industry. In your category, these numbers could be perfectly acceptable. In others, these stats could look like complete trash and you might feel sorry for me.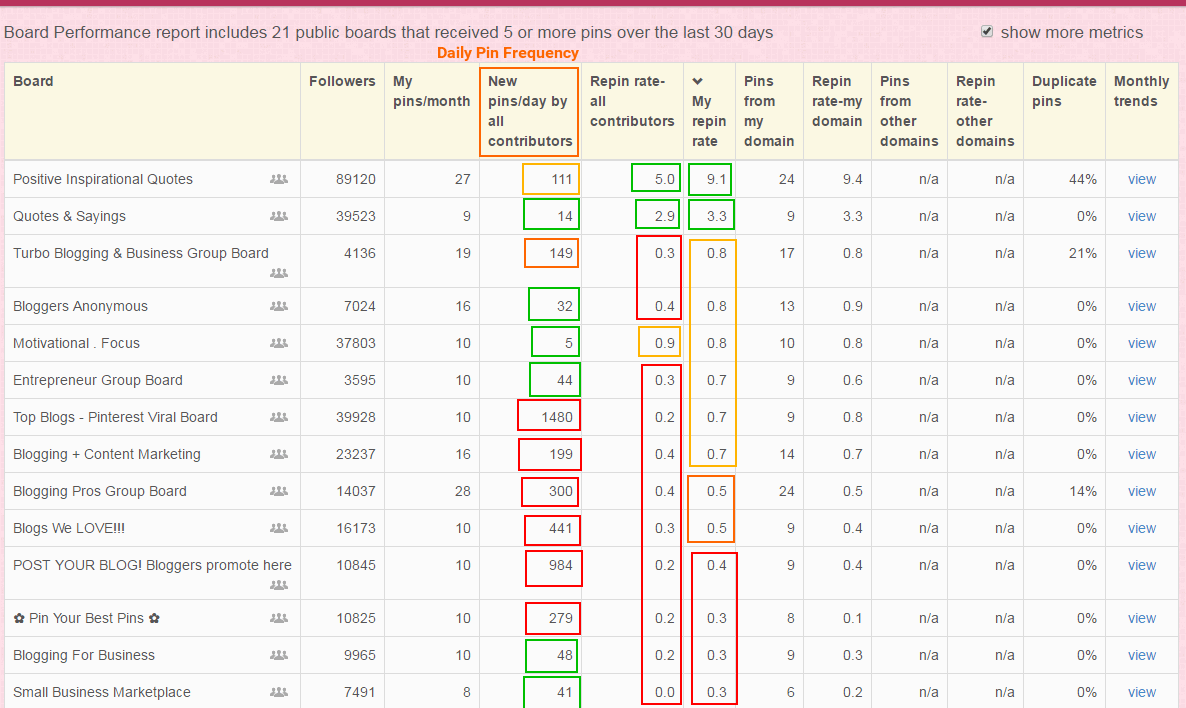 Under the Daily Pin Frequency column lets use the board Bloggers Anonymous as an example. It shows to have 32 pins daily and I am just one of those people contributing to that number. There are no rules on the board that limit your pin amount. But to protect the quality of the board (and to not come off as a spammer) I only save a max of 2 pins to this board.
Top Blogs – Pinterest Viral Board allows you to add as much as you like and as you can see that it's 4000+ contributors are taking advantage of that. At the same time they are destroying the board.
Some boards like Quotes & Sayings and Motivational Focus I would only suggest pinning to manually. The daily contribution level is so low that after a week of just pinning once daily to the board it could look like you are spamming it because the last 7 pins would be all yours.
I'll try anything once though.  No matter how bad some of these boards might appear. It gives me a chance to get my pins in front of a brand new audience. As you can see my repin rate versus the repin rate of all contributors, my pins are kicking their pins butts!
If you want pins that outperform your competitors then check out the post below.
In this article on Pinterest, they tell you all about boards and a few of the features that they have.
To ensure that you get the most engagement from all your pins you should learn more by checking out the 📌 Pinterest Tips!
Well that wraps it up. In a future post I will show you exactly how to setup BoardBooster to automate your Pinterest marketing efforts so you'll be pinning while your sleeping.
If this helped you find and join the best group boards on Pinterest today then drop me a comment and let me know!