While looking for video editing software in preparation of an upcoming online course (#hype) that I will be releasing on Udemy I happened across this free screen recorder called Ezvid. Yes, it is safe to use and virus-free.
Update 9/21/16
I've prepared many reviews for
screen recorders
and video editing software lately and now that I can better judge what is expected of screen recorders,(even if they are free) Ezvid sucks. I would
not recommend
that you use it.
You should check out the programs (with features listed) on
this chart
.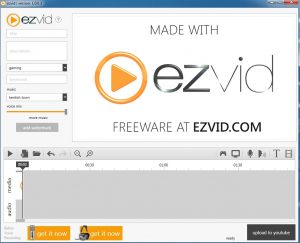 Scroll down to watch the Ezvid video review!
One thing that I have found is people are wondering if Ezvid is a scam or not because it is available for free. It is not a scam and when I downloaded it was safe. The developer is providing the software for free instead of selling it in the hopes that he can makes some affiliate sales through the program for the suggested headphones and microphone.
I am a complete beginner when it comes to using any type of video software so after installing Ezvid and working with it for a little bit the issues surfaced quickly. I had all this static coming out in my audio and I had no idea how to get rid of it. I bought a new headset on amazon and waited for it to arrive believing that would fix my issues. It arrived and the static was still there.
So after countless google searches and numerous watched videos on youtube I saw all of them had the same audio driver in common although they were not directing to that as a fix. It helped and I was able to edit the enhancement settings and finally create clear audio recordings, yay no more static!
Then another issue was the music that kept playing in the background. There is no easy setting in the Ezvid to disable that music that continually plays throughout your recordings. So again there I was searching on google for quite awhile until I found a music file that was simply silence. You can get it here at my dropbox link.
Finally I was able to use Ezvid without static and no music. After tinkering with it I decided to make a video review of Ezvid and you can view below:
Ezvid is a decent screen recorder especially because it's free. Although it does have limited editing abilities it does have quite a few. It gets the job done and as long as you learn how it works and you can work within it's limitations, you will be able to make it work for you. It is best for quick screen recording that you wouldn't have to do any video editing on because frankly having to edit in Ezvid sucks.