Comparing email marketing software is a huge pain in the ba-donka-donk! With these charts, you will be able to compare the listed providers below easier.
One table will compare pricing and plans
 while the
other compares features
.
Scroll to the bottom of this page to see why deliverability rate is measured like it is.
Pricing & Plan Comparison Chart
It's important to note that MailChimp offers a Pay As You Go method. This would be useful for those with a smaller email list but need automation features. You can see the pricing in the graphic below: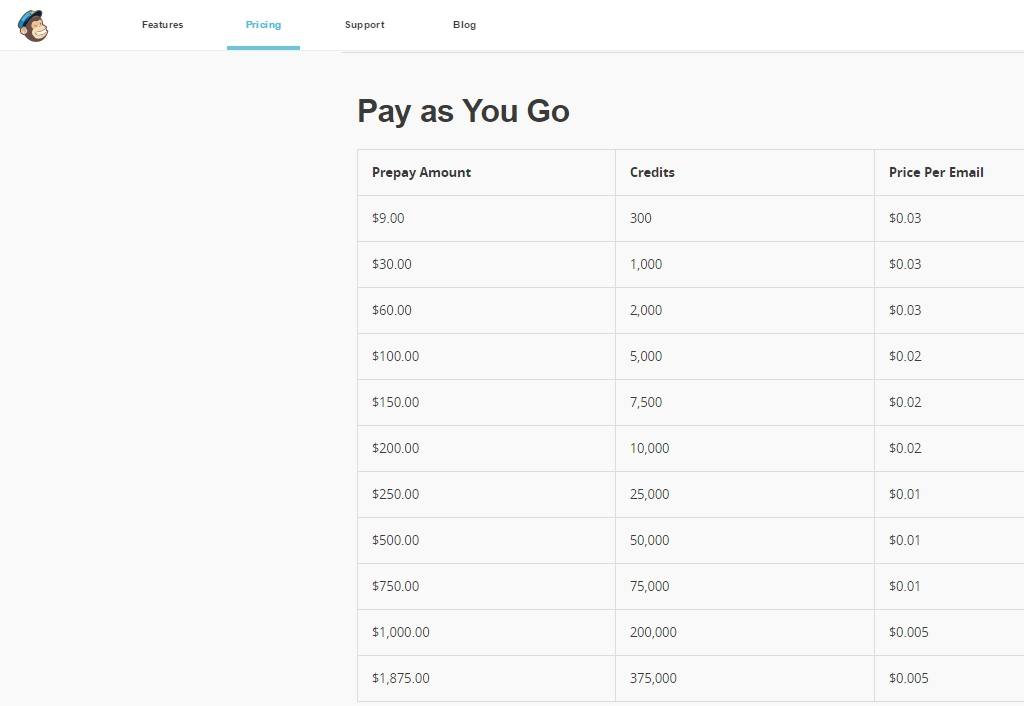 As you will see between the two charts, I have made a redundancy for the features column. To make it easier to check the plans offerings. While you're comparing prices per subscribers. Once you have gotten a good idea of the plans that you should focus on you can use the feature comparison chart below. Use it to drilldown on those specific plans that you we're interested in. Confirm that they meet all the requirements that you want in a service.
Feature Comparison Chart
With the few services that are being compared in the table, it can be a bit tough to see all the information. In that case you can use the buttons below to compare one provider directly to another.
Email Marketing Software Platform Compared Side-by-Side
Click the button of the provider that you want to compare to another directly. You will be taken to a page where it is compared 1 vs 1 to the other providers.
Drag and Drop Comparison Table
Do you want to compare them yourself? Use these tables to drag the email marketing solutions into the empty area for a direct comparison.
Email Campaign Software Services Deliverability Rate
How am I confirming the real deliverability rates and why am I measuring it in smiley faces?
Due to the terms & conditions of the service that I am using I am not allowed to publish their data. That is why I am sharing my satisfaction with the numbers, represented by smiley faces.

If you would like to signup for the free service yourself and confirm the actual numbers. You can by simply heading over to: senderscore.org
With your account, you will need to input each services IP range one at a time. Enjoy selecting all the storefront images for reCaptcha. Tracing street signs and selecting images with rivers haha. I also recommend that you check out their annual Deliverability Benchmark Report. This will break down the Inbox Placement Rates globally and by each country.
This could help to explain the declining deliverability rate. Sometimes people suspect their provider for the declining Inbox Placement Rate. When that is not the case. Before you make a knee-jerk reaction and jump from one provider to the other. Make sure you have all the information. Save yourself the headaches and possibly wasted time by researching first.
I'll save you the time of looking up their IP ranges and post them here. When checking a viable IP address you will see a score 0-100 and a graph like this: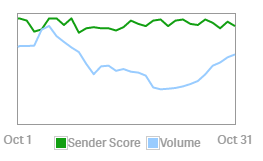 Needless to say I spot checked about 5-10 IPs for each service. To my surprise they we're all above 90, these providers are serious deliverers.
Newsletter Templates Provided by Each Email Service
I'd like to preface this by saying all of these are really easy edit. Once you get familiar with their editing dashboards of course. You just select a template, swap out photos and adjust colors. Replace the text with your own and save the template as your own for future use. You can easily create commercial design with any of these templates.
AWeber Templates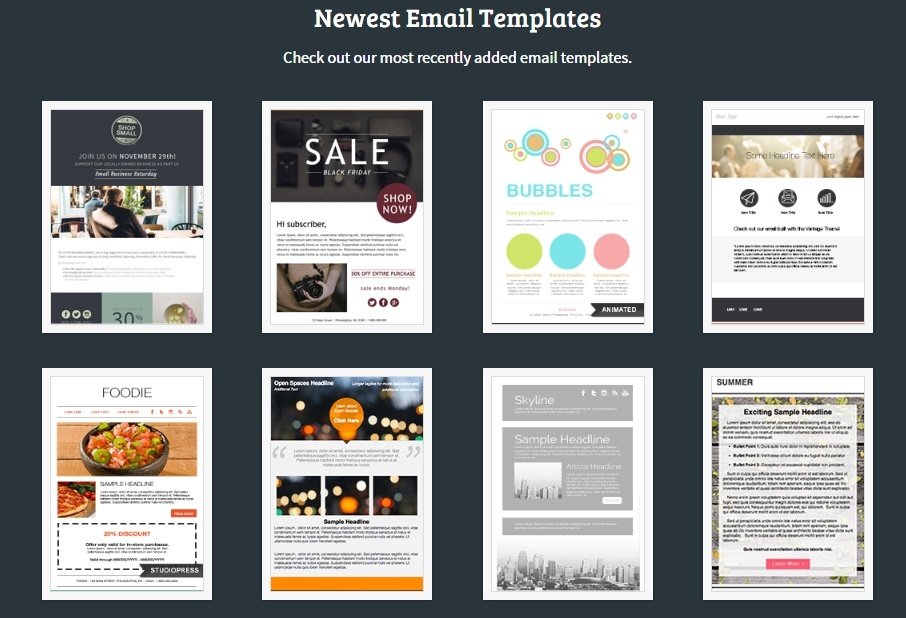 These templates look like the front page of professionally designed website. They are conservatively stylish and not one bit over-cluttered or difficult to read.
MailChimp Templates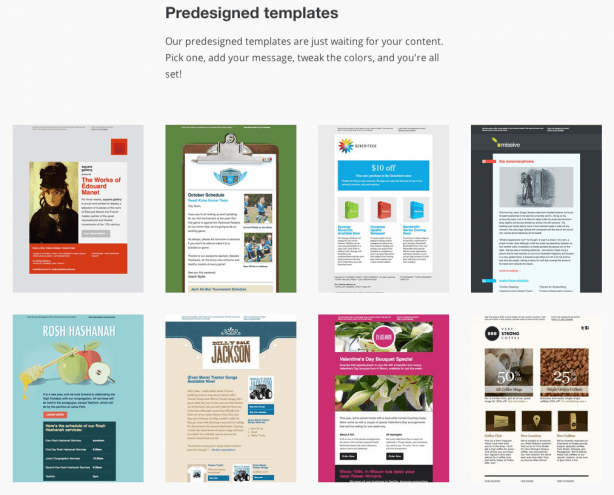 A massive amount of templates to work from. They really put a great deal of time and care into creating 700+ templates.
GetResponse Templates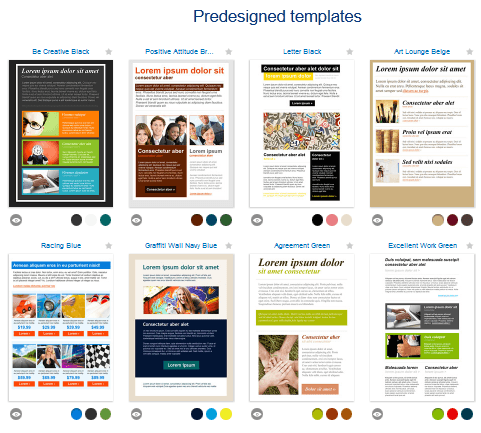 Well… their simple that's for sure. They could use an update on these templates. To give their customers more inspirational influence.
Campaign Monitor Templates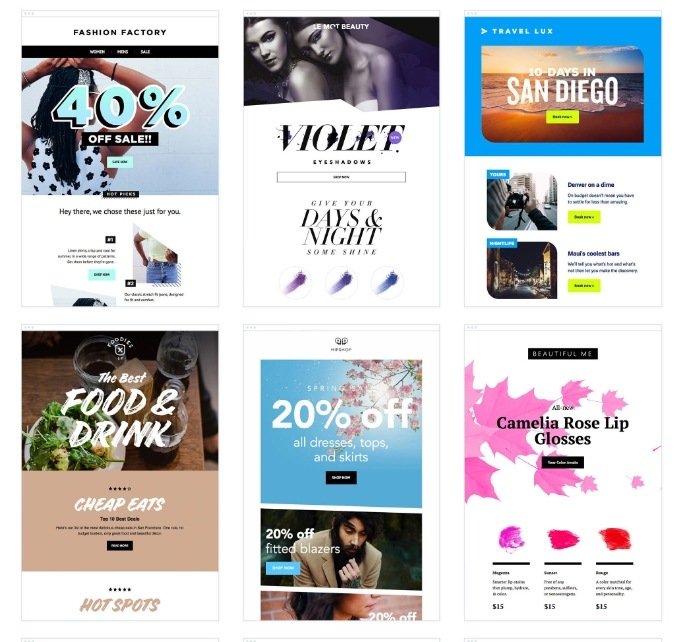 These guys truly know how to design stylish yet simple email newsletter templates. I love that they are very modern but they are also not crammed full of content.
Constant Contact Templates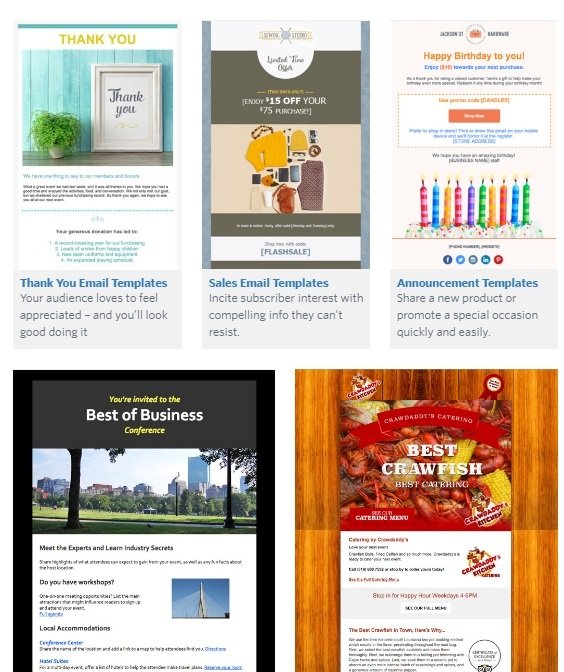 Looking at Constant Contact's email newsletter templates reminds be of standing in front of a greeting card rack. They literally have an email template for every occasion and sadly this is only a picture of a few. There are templates framed with a school bus, a dog about to get a bath and multitudes of decorative text wishing you to celebrate the holidays.
ConvertKit Templates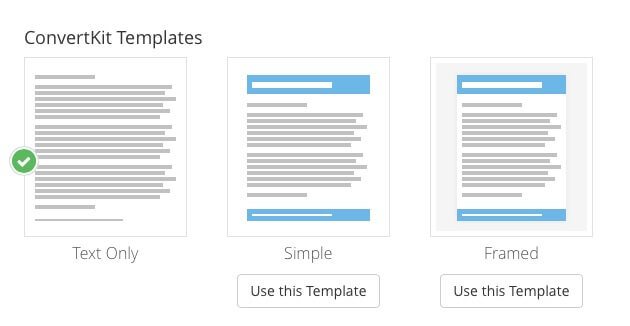 Depending on your industry, fancy templates are not always the answer when it comes to really connecting with your audience. ConvertKit understands this. Although they do offer pre-designed templates they encourage you to test a simpler approach. To improve your email readability, CTR and overall experience.
iContact Templates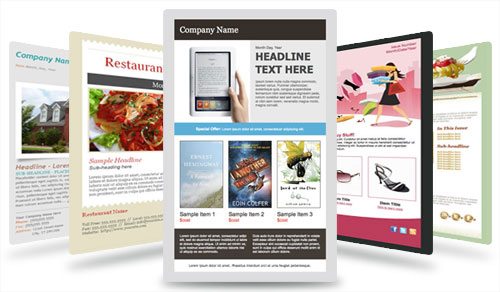 I especially like the template here in the middle and the one directly to the right of it. The top section fills the width of the email with its main focus. But there are added areas directly below it that readers can scroll to. If that top section didn't meet what they were interested in on that particular day.
Which is the best solution for small businesses?
Unless your a blogger building up an email list or something like that I would suggest serious small businesses stay away from free solutions like MailChimp. For everyone else like online store operators, brick and mortar stores and local service businesses, I would suggest GetResponse, Constant Contact or even Godaddy Email Marketing for that business owner that needs a simple solution because they are already handling everything else themselves.
Demo Videos
MailChimp (Jump to 3 minute mark)
AWeber
GetResponse
Campaign Monitor
Constant Contact
ConvertKit
iContact
GoDaddy
So how do you decide on the best email marketing solution?
I would suggest that you take advantage of the free trials. From the services that have met your requirements, of course. It will give you a chance to get a feel for how the dashboards flow. If after a while they seem too difficult then just try a different one. These companies have built their dashboards to be as intuitive as possible. Each one of them has a different way of doing the same thing. You just need to find which one fits you. It really is as simple as that. Oh, and make sure you like the pricing per the size of your email list.