Why did I create the update log?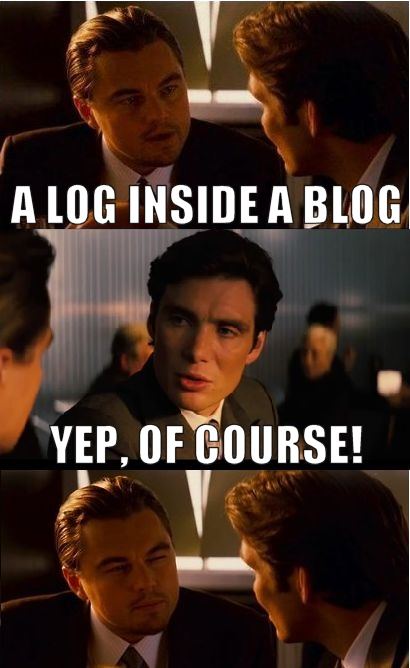 Seeing as how the focus of this blog is an Entrepreneurship Journey. Although, I've been making a living online for many years with many websites, this is my first blog. I will explain the many reasons so you can come get inside my head:
Few people will regularly check your website for new updates.
That's why you need to convince them to join your mailing list or have them follow you on social platforms. Those platforms are noisy as hell, so you and your stuff can easily get lost in the tidal wave of notifications. It's not that you will ever not get noticed but just not as often as you like to keep people up to date on your every move.
No one will ever care about your stuff as much as you do.
Once, that shocking reality has set in then you will be open to think outside the box. So let's think: Besides those people that have joined my mailing list and I am able to keep them up to date. What about everyone else? The update log is the idea to solve that issue.
So if I place this page inside my top-menu. Someone sees it they might be inclined to say to themselves "What the hell is that?" At this point, I haven't decided whether I will label the update log as "Log" or "Updates". I'll probably prefer the latter even though it does pretty much dispel the "What the hell is that?" thought I had above.
The next thought-path of reasoning
Although I can explain at the beginning of a single post why it is I created that post. Many people will simply glaze over the beginning of the post so they can just get to the point. Solving the problem that post was created to help them solve. Although the beginning of that post addresses the problems of why it was created. It's often unnecessary, other than it's great for on-page SEO.
It's also hard to follow the reasoning of why I created this post and then why I created the next. The update log let's me briefly explain the why.
I don't like income reports
In my opinion they are a double-edged sword. Either you earn too little and people discount you as a reputable source. You earn too much and people think that you are way too far up the mountain and they will never reach you.
The same type of information in this update log is often shared inside of income reports. I personally don't like people knowing my financials. I also think many income reports are fraudulent and/or are being abused. The point of those reports are to share what income strategies are working for you. I'm skeptical, that many people would not succumb to the temptation to skew the numbers. To influence people to engage more in a certain strategy because it would bring the person that created that income report, more income.
So the update log is my way of sharing the same information without invading my own privacy and without the BS.
It's also SEO-friendly as hell. Inter-linking posts is not only good for the user experience. It also helps the search engines bots find all the pages on your site. If I update a specific part of a post then yes my sitemap plugin will change the priority level of that page. So search engines will make sure to crawl it. Back to the user experience thing, it's not all about the bots. It's about the people and I want them to read it. So, I'm going to place the update in the log so they will know.
It's already proven
The update log isn't an experiment that I'm testing, it is already a proven and effective thing.
To online software developers it's known as the changelog. To online gamers it is known as patch notes. Exactly like those 2 items, a website is never finished. It is constantly in the state of evolution.
With that in mind, people also have lives. If I believe that people are foaming at the mouth to get a hold of the next post that I put out… then I am delusional. People are going to get busy and they are going to miss school. It could be weeks… it could even be months. One day they either see something that makes them think of you or simply remember you. Then they will decide to go and check out your site again. The update log let's me let them know what they missed while they were truant.