Have you seen those pins that go something like "How to Get Massive Traffic from Pinterest". I've read a handful of posts on Facebook Groups and various blog posts pinned on Pinterest itself about certain individuals absolutely killing it on Pinterest.
To summarize they all achieved this by simply using relevant content and tools to automate the activity of their pinning. Pinterest has something called a Smart Feed. It's basically an algorithm that suggests pins to users based on who they are following and content that was recently pinned. So if you want to increase engagement from your following on Pinterest you need to pin content more often in hopes of it hitting the Smart Feed when your audience is actively on Pinterest.
Now, let me explain what Tailwind is if you are not aware.
Tailwind is a Pinterest Scheduler that allows you to set up pins to be pinned at a specific time and date that you choose. This allows you to keep pinning and stay active even when you are not actively on the Pinterest platform. When you first sign-up for Tailwind it analyses your profile and the type of content that you pin to your boards and then it suggests a schedule which is about 5-10 specific times on every day of the week.

The darker green timeslots show times that you have committed to pinning content at that time.
The lighter green timeslots with the dotted border indicate suggested timeslots that you should add to your schedule to increase the chance of people interacting with the content you're pinning. These suggestions come directly from Tailwind itself and are based on real interactions with your pinned content from your followers.
You are also able to add your own custom timeslots(they will show up in grey) by clicking the blue button: +Add Timeslot. Then you adjust the slider to the time you want, confirm it and boom it's added to your schedule.
Here is where things went wrong.
All of the advice I had read suggested to simply pin more and more often. The suggested amount of pins ranged from 20-30 daily all the way to 70-100 pins daily. The suggested content ratio ranged as well, from 80%/20%(pin 80% others people's content and 20% content yours), every 10 pins 1 of your pins, 50/50, 1 third your content etc. Obviously, there is no magic formula for that, it's whatever works for you and I 100% believe that it is working for them because I have the tools to prove it.
I'm not one to read someone's advice and not do anything with it. So that day I decided to get Tailwind and apply it and ramp up my pinning activity on Pinterest so I could try and achieve the same tidal wave of traffic that they we're showing numbers for.
My plan was to hit the sweet spot on their suggestions and aim for 40 pins a day. So I added custom timeslots on each day that were about 25-35 minutes apart from one another until I reached 40 timeslots for that day. Then I would move to the next. Doesn't sound hard and it isn't but damn it's time-consuming.
Now I need to find 280 pieces of content to pin to fill up one week of this schedule.  Luckily, Tailwind does have an extension(this is for Chrome) on multiple browsers that will help you schedule multiple pins when your browsing on Pinterest. So here is how that part works: You click the extension button when you see some content you would like to schedule and a new window for that Pinterest page pops-up with all of the same pins on it and now you can click each of the pins to select them to be scheduled.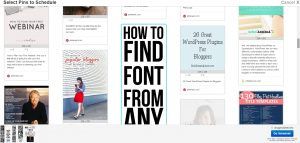 On the next page is where you assign the boards that you want those pins sent to. You can use the top bar to assign them all to the same board or right below the pin to assign them individually to different boards.
The pins are added to your queue and the pins are then automatically assigned a time to be pinned based on the timeslots you setup in your schedule. Well, that's nice… but only 5 down and 275 left to go.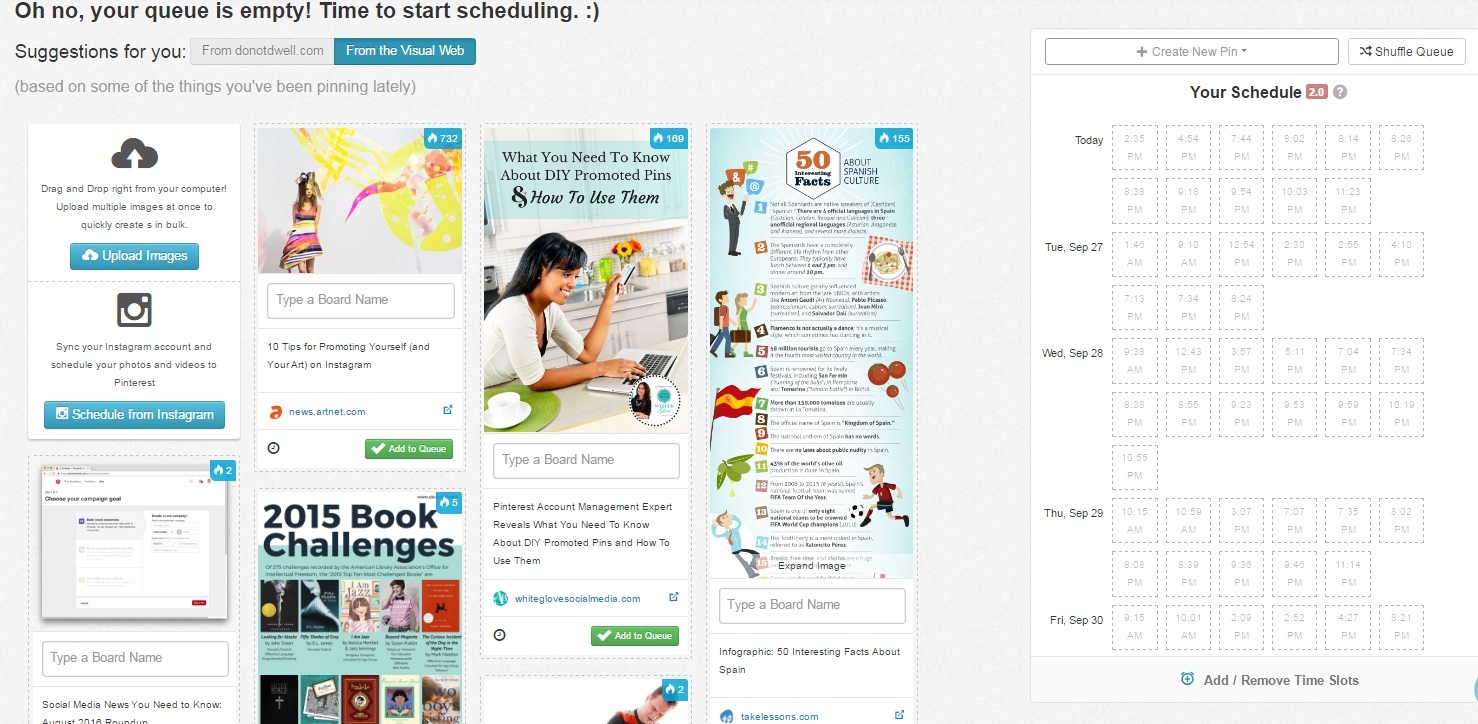 Ok, well at least Tailwind has a content suggestion area to help me quickly find related content to either my website or content from "The Visual Web" whatever the heck that means. When I'm out of ideas and content to pin from my own boards, community boards, and friend's profiles this is where I go to fill up the schedule. But seriously after a couple of hours I had finally filled up the entire week(it's not suppose to take this long, maybe I'm slow?). Sorry, I didn't screenshot because I didn't plan on documenting this.
Now here my profile stats… that will not go back further than 7 days…  -_-
Anyhow, based on the graphs and the numbers you can definitely see that all the activity had a positive effect on my profile. It really looks like I'm killing it!

Meehh… not so much. The pins that really got the attention weren't even my own. I was trying to keep it about 80/20 so out of 280 about 50 or so were actually mine.
Definitely not the impact I was planning on, even though I've been an internet marketer for 7 years now and I know that everything takes time to snowball. It's definitely not worth the time, at least not the way I was doing it. I'm still having a hard time justifying using Tailwind when I'm not getting very much back in return. Yes, my profile is building up and I'm gaining followers but still not getting very much engagement on my pins.
So, I cancelled my Tailwind subscription. It was really easy and they ask you why you are leaving and I basically explained that the content curation part was just way too time-consuming. I'm never going to 100% share my own content that's boring and it's just not how I roll. Many people post amazing blog content every day and if I find it I'm for damn sure going to share it out of respect for their hard work.
Between the time of cancelling Tailwind and writing this post I had time to think. I'm not going to give up on Tailwind right away. Because I understand exactly what it does and how it can benefit me greatly but I do need to change my strategy on how I use it.
So I went back into my Tailwind dashboard and deleted every single custom timeslot I had setup. There's no way I can summon the motivation to schedule 40 pins a day when it's not bringing that much traffic back to my own site. It is building up my Pinterest audience but at this point, I have no ability to assign a value to that following to measure any sort of ROI. Because there is none, yet. Anyway, I'm going to continue with 10-15 scheduled pins a day.
I refuse to believe that Pinterest is no-mans social platform land. I just haven't fit in yet.
A few days later while writing this post I get an email from Emily at Tailwind:

I replied:

The solution: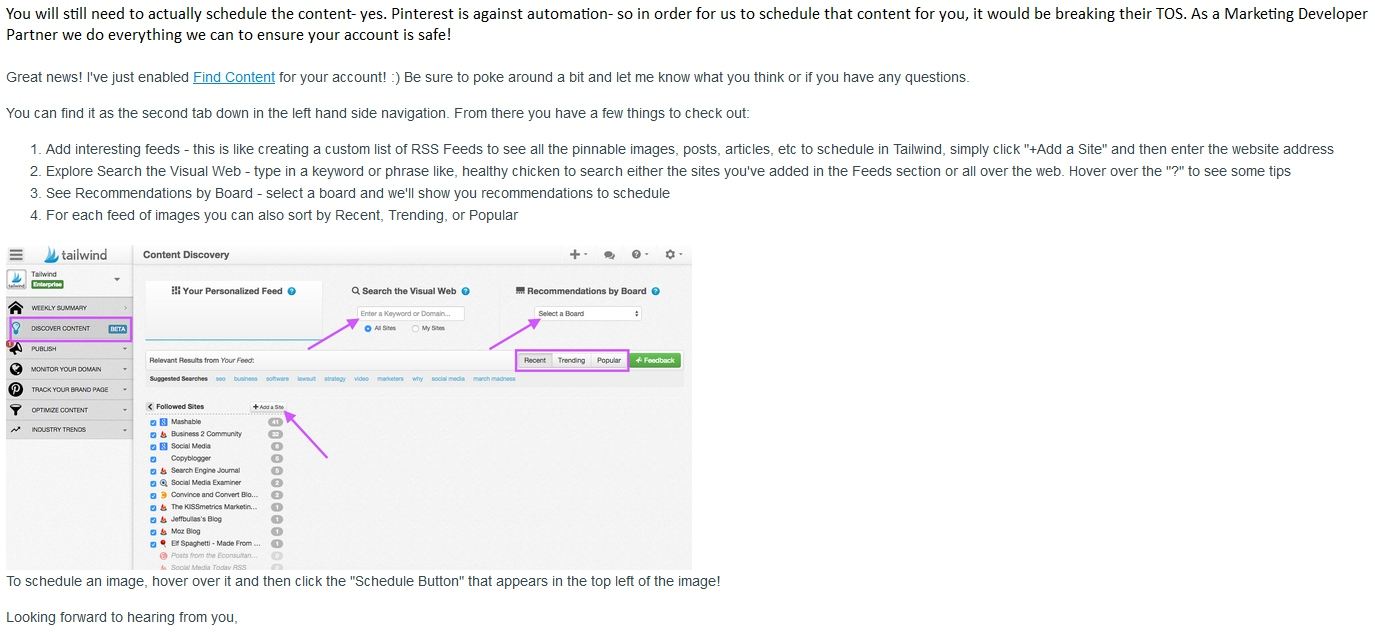 In short, I want the ability to do something that isn't allowed by Pinterest. Makes sense because of spam and what-not but doesn't help me save the time I was looking for like I able to do on Twitter.
Oh well, my Tailwind account has this new Find Content beta feature added to it so let's check it out.
Ok nice, they have an option in here that gives "Recommendations by Board"
When you select the board that you want to promote pins to it will then spit out a bunch of pins that are relevant to that board but are not pinned on that board. That's what I'm talking about. I want to be able to put pins on my board and community boards that have never been there before. Sure, I'll recycle my own pins to a few boards here and there but I definitely want to share fresh and never before seen content. This will definitely help me save time, how much? I do not know yet.
I have $15 of Tailwind to give out, who wants it?!
Grab it here
The advice wasn't shoddy. My biggest mistake in all of this was taking what was working for all of these other bloggers and expecting it to work for myself, right away. Like they just discovered that strategy that works for them and achieved that success in a week. That's like me trying on their sexiest dress and thinking I'm going to be just as hot. I assure you that would not be pleasant for anyone haha. I'm definitely going to have to work on this a bit more to find what works for me.
I'm going to wrap it up here and I'll let you know how the journey goes. This post is already wordy enough.