Email Marketing Software Delivery IPs
Due to the terms & conditions of the service that I am using. I am not allowed to publish their data. That is why I am sharing my satisfaction with the numbers, represented by smiley faces.
If you would like to signup for the free service yourself and confirm the actual numbers then you can by simply heading over to: senderscore.org
With your account, you will be able to confirm the actual numbers for yourself by inputting each services IP range one at a time. I also recommend that you check out their annual Deliverability Benchmark Report. This will break down the Inbox Placement Rates globally and by each country.
When checking a viable IP address you will see a score 0-100 and a graph like this: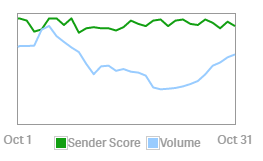 Needless to say I spotchecked about 5-10 IPs for each service. To my surprise they we're all above 90, these providers are serious deliverers.
AWeber
204.194.222.0/23
MailChimp
205.201.128.0/20
198.2.128.0/18
GetResponse
104.160.64.0/24
104.160.65.0/24
104.160.67.128/25
104.160.68.224/27
104.160.69.0/27
Campaign Monitor
27.126.146.0/24
103.28.42.0/24
146.88.28.0/24
163.47.180.0/22
203.55.21.0/24
204.75.142.0/24
Constant Contact
208.75.123.1/4
208.75.123.103/104
208.75.123.130/135
208.75.123.161/186
208.75.123.193/198
208.75.123.200/202
208.75.123.225/236
208.75.123.250
ConvertKit
-confirming IPs-
iContact
74.202.227.41 – 74.202.227.50
66.192.165.130 – 74.202.227.132
66.192.165.134 – 66.192.165.139
66.192.165.142
66.162.193.226 – 66.162.193.238
64.132.109.50 – 64.132.109.62
216.27.93.106 – 216.27.93.125
216.27.86.128 – 216.27.86.149
216.27.86.154 – 216.27.86.191
207.254.213.192 – 207.254.213.255
x